We will make you an offer NO MATTER WHAT!
We pay Top Dollar for your Jewelry, Gold, Silver, Rolex, Watches, Coins, Diamonds..
Serving the local community since 2007​
With branches in Las Vegas & Henderson, our buying services extend to all parts of Las Vegas and beyond. And we ALWAYS offer UNBEATABLE prices.
So, do you have diamonds, gold, jewelry, silver, watches, or any valuables you need to sell? Look no further than Vegas Gold Guys. We're here for you!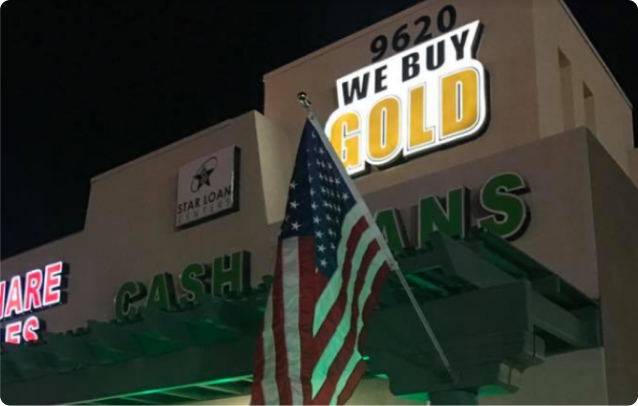 Should You Sell Your Gold?
Sell your gold if you need urgent cash.
Urgent cash aside, it can be an out regardless of the quality of your gold. Whether your valuables are top, medium or low grade does not matter. You will always get a price.
Furthermore, selling your gold is convenient. You won't wait weeks or months for buyers to check your listing. You can get paid in under 30 mins!
And lastly, against what you might have heard, shops don't always offer meager rates. We are an example.
At Gold Guys, we offer fair and competitive rates to sellers. More importantly, our gold buying process is super fast. That's why we are regarded as one of the best gold buyers in Las Vegas and Henderson.
Ready to sell your gold hassle-free and get paid FAST?
Reviews From Our Fabulous Customers

Christian M.
Very happy with my experience. Took my silver tiffany necklace and bracelet to superpawn where they only offered me what the silver was worth. Vegas Gold Guys gave me almost 10x what superpawn offered because it was Tiffany and CO.

Susanne T.
Was in a HUGE bind one day and needed to come up with my rent money. Thankfully I had some gold jewelry they bought and saved the day. Very happy with how I was paid!.

Weldon O.
Great experience at Vegas Gold Guys!! I got top dollar for my old jewelry, even my random broken pieces!!! And Shawn is cute and easy on the eyes too! I might be back just to say hi to him!

anthony c.
I inherited lots of jewelry and wanted to sell most of it. I found Vegas Gold Guys online and when I got there, I had a great experience. Dale and Shawn were so nice to me and I didn't feel rushed at all. I left with a lot of money and Vegas Gold Guys got a new customer! I'll totally be back again.

Damon D.
I didn't know that I could sell my broken jewelry and even my earrings that were missing the stones. My friend took me to Vegas Gold Guys and I got some money for stuff I thought I was going to just throw in the trash

Stephane h.
Super happy with my experience. Dale helped me go through all of my jewlery to find out what was real and what was costume. He was patient and took his time with all my questions. He paid me much more money than I expected, ill be back!!!
If you're not convinced, we welcome you to visit and confirm our processes at our branches.